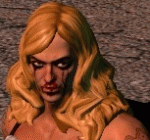 Gyuricza József (öcsy)
26 éves, férfi
Magyarország
Offline, itt járt 2 napja
7 éve tag
Processzor:
Intel Core i5-7600K 3.8GHz Cooler Master V8 GTS
Memória:
Kingston HyperX Fury Black CL14 DDR4 8GB 2133MHz
Videókártya:
ASUS GeForce GTX 1050 Ti OC 4GB
Op. rendszer:
Windows 10 64bit
Alaplap:
ASUS B150M PRO GAMING
Tároló eszköz:
Toshiba 3.5" SATAIII 2TB 64 MB cache
Ház:
Zalman Z11 Plus HF1
Monitor:
Acer K272HL
Billentyűzet:
Genius Scorpion K9
Egér:
HP Omen with SteelSeries
Frissítve: 2017. 06. 25.
Hozzászólás küldése
Hozzászólás küldéséhez be kell jelentkezni.
Hozzászólások
Még nem küldtek hozzászólást. Légy te az első hozzászóló!